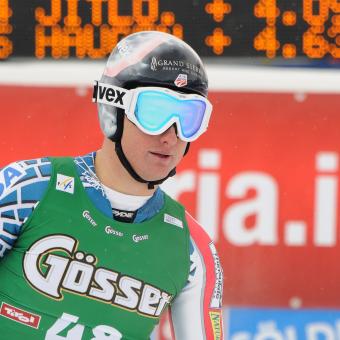 Tim Jitloff
Bergen am Chiemsee, Germany
Tim Jitloff, like so many Lake Tahoe tykes, was on skis by two and freeskied through most of his youth. He stepped up to the U.S. Development Team in 2005, the same year he captured a Junior World Championship title, and is now on the cusp of his first World Cup podium.
After flashes of brilliance earlier in his career, Jitloff has established himself as one of the best giant slalom skiers in the world…and that's saying a lot considering his biggest competition, Ted Ligety, is the best in the world. In fact, in training, "Jit" was often faster than Ligety. With four top 15 results under his belt, Jit skied consistently—and consistently fast—in 2015, grabbing a 9th place finish at Vail/Beaver Creek World Championships on home turf and finishing 17th place in the giant slalom World Cup rankings. And as if that wasn't enough, Jit walked away with his third-straight national giant slalom title at season's end in Sugarloaf, Maine.
The 2016 season was a more challenging one for Jitloff, though he skied to a seventh place in Alta Badia, Italy, giving him confidence that the top 10 is where he belongs. Jitloff finished the season with his first super G national title at Sun Valley, Idaho.
FIRST TRACKS
As told by the man himself, "Since I lived in Tahoe, I grew up freeskiing all my youth and in that freeskiing, I found I enjoyed the thrill of racing. I've been doing both ever since."
OFF THE SNOW
Jitloff is officially certified in SCUBA, but he's also into wakeboarding, surfing, road biking, hockey, golf and traveling. Practically a dual citizen, Jit splits his time between Reno and Bergen am Chiemsee, Germany, where he lives throughout the season with his fiance, Anja.
Team Info
University of Nevada, Reno
Results
OLYMPICS
Teams: 2014, 2010
15th, GS, Sochi, 2014
WORLD CHAMPIONSHIPS
Teams: 2015, 2013, 2011, 2009, 2007
9th, GS, Vail/Beaver Creek, USA, 2015
14th, SC, Garmisch-Partenkirchen, GER, 2011
17th, AC, Vail/Beaver Creek, USA, 2015
16th, GS, Schladming, AUT, 2013
18th, GS, Are, SWE, 2007
22nd, SL, Val d'Isere, FRA, 2009
25th, SL, Are, SWE, 2007
26th, GS, Val d'Isere, FRA, 2009
WORLD CUP
7th, GS, Alta Badia, ITA, 2016
9th, GS, Beaver Creek, USA, 2015
10th, GS, Garmisch-Partenkirchen, GER, 2015
Two top 10s to finish 19th in GS standings, 2014
Ranked 27th in GS, 2012
First points (20th, GS, Soelden, AUT, 2008)
First SL points (15th, Alta Badia, ITA, 2008)
First SC points (24th, Wengen, SUI, 2011)
U.S. CHAMPIONSHIPS TITLES (7)
2016, SG, Sun Valley, ID
2015, GS, Sugarloaf, ME
2014, GS, Squaw Valley, CA
2013, GS, Squaw Valley, CA
2009, GS, Alyeska, AK
2009, Combined, Alyeska, AK
2008, GS, Sugarloaf, ME
OTHER
2007 NorAm giant slalom champion
2005 Junior World combined champion
2005 Ski Racing Junior Skier of the Year