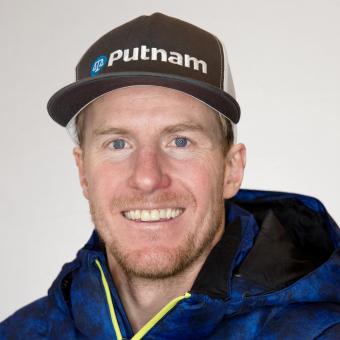 Skiing always comes first for 2006 and 2014 Olympic gold medalist and five-time World Cup giant slalom champion Ted Ligety. Whether it's dropping cliffs, taking the snowmobiles into the Utah backcountry or laying down some of the most incredible angles in all of ski racing, "Shred" is constantly pushing and evolving the sport.
Ligety had a lot to live up to following a historic 2013 season that solidified him as one of the legends of the sport. He again set the tone with season-opening wins in Soelden and Beaver Creek, and then rocketed into Sochi as the favorite to win the giant slalom gold medal. Being the favorite and then delivering on that expectation is the most challenging position to hold in all of sport. Ligety delivered and became the first American man to win a giant slalom gold medal, which also marked him as the only man in U.S. history to win two Olympic gold medals in alpine skiing.
In 2015, Ligety successfully defended his World Championships giant slalom title—his third straight—which was his biggest goal. With World Championships on home soil and a track that Ligety loves, it was an arc-er's show starring Ted Ligety. He shredded the track, gaining speed and building his lead the entire way down, and he gave the massive crowd something to cheer for. The 2016 season started off with a bang for Ligety, as he won the giant slalom over France's Thomas Fanara and rival Marcel Hirscher from Austria, and then snagged a surprise second place ahead of teammate Andrew Weibrecht in the super G at Birds of Prey on a technical course set, which was a historic day for the American men with four in the top 11. Ligety struggled to find his groove, though, and a mid-season crash during training at Oberjoch, Germany resulted in a career first season-ending knee injury. In 2017, the struggles continued with a nagging back pain, and Ligety found himself getting surgery and sitting on the sidelines.
After two years of injuries, Ligety returned to the podium the World Cup prior to the Olympics in PyeongChang at Garmisch-Partenkirchen, with a third place. At PyeongChang, his best result was fifth in the alpine combined event. His biggest fan—his son, Jax—"watched" from the finish area at PyeongChang, often napping. "Unfortunately, I wasn't able to perform at a high level for them," Ligety told the media. He grinned. "But my son, Jax, is 7 months old and he doesn't really care," he said. "That'll be my reprieve today."
He will look forward to the 2019 season, bringing the momentum and the heat from this season. 
FIRST TRACKS
Ligety was on skis at two and began racing at 11, working his way from the Park City Farm Team on up to the Park City Ski Team. Although he played other sports as he went into high school, he says, "Skiing really was my only passion." U.S. coaches watched and waited as he worked up through the junior ranks, and when he collected slalom silver at the 2004 Junior World Championships and then 23rd in a World Cup slalom, he clinched a place on the '05 U.S. Ski Team.
OFF THE SNOW
Ligety is the mastermind behind Shred, a company he started with friend Carlo Salmini following the 2006 Olympics. Originally started with goggles, Shred now makes helmets, sunglasses, gloves, and outerwear, but more importantly, pushes the style envelope with ski racing. Aside from the biz, Ligety digs tennis, Formula One racing, waterskiing, ripping around the Utah backcountry and playing badminton in his backyard court. Recently, Ted and his wife Mia had a son, named Jax, and they're enjoying parenthood. 
Team Info
Park City Ski & Snowboard
2006 Turin
2010 Vancouver
2014 Sochi
2018 Pyeongchang
The Park City Winter School
Results
OLYMPICS (top 20)
Gold, GS, Sochi, 2014
Gold, Combined, Torino, ITA, 2006
5th, SC, Vancouver, CAN, 2010
5th, AC, Pyeongchang, KOR, 2018
9th, GS, Vancouver, CAN, 2010
15th, GS, Pyeongchang, KOR, 2018
19th, SG, Vancouver, CAN, 2010 
WORLD CHAMPIONSHIPS (medals)
Teams: 2005, 2007, 2009, 2011, 2013, 2015, 2019
Gold, GS, Vail/Beaver Creek, USA, 2015
Gold, GS, Schladming, AUT, 2013
Gold, SG, Schladming, AUT, 2013
Gold, SC, Schladming, AUT, 2013
Gold, GS, Garmisch-Partenkirchen, GER, 2011
Bronze, GS, Val d'Isere, FRA, 2009
WORLD CUP
Five straight GS victories on Birds of Prey, Beaver Creek, CO
Five-time GS champion (2008, 2010, 2011, 2013, 2014)
Won historic six of eight GS races, 2013
Third in overall standings, 2013
Top three in GS standings from 2008-2015 seasons
First victory (GS, YongPyong, KOR, 2006)
First podium (3rd, SL, Beaver Creek, CO, 2005)
U.S. CHAMPIONSHIPS TITLES (7)
2013, SL, Squaw Valley, CA
2007, GS, Alyeska, AK
2007, Combined, Alyeska, AK
2006, SL, Sugarloaf, ME
2006, Combined, Sugarloaf, ME
2005, SL, Mammoth Mountain, CA
2005, Combined, Mammoth Mountain, CA