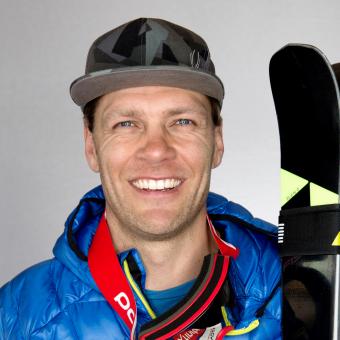 Steven Nyman
King of the Saslong - 3x Val Gardena Downhill Victor
Born and bred in Utah, downhiller Steven Nyman was skiing at two (Dad ran the ski school at Sundance) and was a discretionary pick to the 2002 Junior Worlds squad, where he landed two medals, including a slalom gold. Coaches were so impressed they entered him in a World Cup slalom six days later and he finished 15th. Needless to say, his 6'4" frame is more suited for speed events—his three World Cup downhill wins proves it.
The one thing that is consistent with World Cup skiing is that it's not consistent. Nyman knows that best of all. After an incredibly successful 2013 season, 2014 shaped up to be mediocre results-wise. But he took a lot of positives out of the season as well, namely fast skiing in Beaver Creek and another Olympic start. And then came 2015, where Steven was in top condition physically and performed his strongest and most consistent season of his career, finishing 6th in the downhill rank.
First, he grabbed a podium at Birds of Prey, just .02 out of second, behind Kjetil Jansrud and Beat Feuz. He went on to complete the Val Gardena hat trick, by a commanding three tenth margin. Three career wins, all of them on the Saslong track. Impressive. From there, he snagged one of the best super G results of his career with a 13th in Kitzbuehel and followed it up with a 5th place in downhill—good momentum that created confidence leading up to Vail/Beaver Creek World Championships. What a downhill day it was. Nyman hammered and came down in first place. The crowd was manic. Then the Swiss Beat Feuz came down and snuck in ahead of Nyman once again—this time by .03—and Nyman was sitting in second. But it was another Swiss—Patrick Kueng—who came down with the lead, skiing into first. And then teammate Travis Ganong broke up the Swiss party, pushing Nyman to fourth. 
In 2016, Nyman did something no other American Downhiller has done—podiuming four times in a row, starting with the PyeongChang Olympic test event in Jeongseon (3rd) and then Chamonix (2nd), Kvitfjell (3rd), and St. Moritz (2nd). In 2017 Steven started the season off strong with a third place finish in Val Gardena then grabbing a top 10 in Kitzbuehel. The fourth race of the season in Garmisch, Nyman was having the fastest run of the day until he crashed off a jump tearing his knee. He rehabbed all summer at the U.S. Ski Team's Center of Excellence and was ready for the 2018 Games in PeyongChang, where he medaled at the test event and felt "at one with the course", though his 2018 Olympic dreams were cut short when he injured his other knee - a clean ACL tear - almost to the day of his injury just one year prior (364 days) on the Garmisch track. 
Nyman returned to action at Lake Louise for the 2018-19 season, scoring his career best finish on the track, at age 36 years old. He followed that up with a tie for ninth place with his teammate and fellow big man, Bryce Bennett, at Birds of Prey. Keep an eye on this one - he wants it this year, and age is not stopping him. 
FIRST TRACKS
Nyman was skiing at two and racing at eight for Sundance (while mowing Robert Redford's lawn in the summer), not far from his home and where Dad was the ski school chief. He shifted to Coach Rob Clayton's stellar Park City program for Winter '99. He landed a couple World Juniors medals and jumped immediately to the U.S. Ski Team.
OFF THE SNOW
Nyman is the man behind the www.fantasyskiracer.com mask. Think fantasy baseball for alpine skiing and you'll dig this site. Nyman is into adventure, especially with his pro freeskier brother Blake. Whether it's making powder turns at Sundance or kicking back in Hawaii. He recently had his first child, Nell, and is loving being a Dad. Follow along @steven_nyman.
 
Team Info
Park City Ski Team/Sundance Ski Team
2006 Turin
2010 Vancouver
2014 Sochi
2018 Pyeongchang
Results
OLYMPICS (top 30)
19th, DH, Torino, ITA, 2006
20th, DH, Vancouver, CAN, 2010
27th, DH, Sochi, RUS, 2014
29th, Combined, Torino, ITA, 2006
WORLD CHAMPIONSHIPS (top 25)
Teams: 2007, 2009, 2011, 2013, 2015, 2019
23, DH, Are, SWE, 2019
8th, SG, Are, SWE, 2019
4th, DH, Vail/Beaver Creek, USA, 2015
21st, AC, Vail/Beaver Creek, USA, 2015
20th, SG, Vail/Beaver Creek, USA, 2015
9th, SC, Are, SWE, 2007
12th, SG, Are, SWE, 2007
13th, DH, Garmisch-Partenkirchen, GER, 2011
21st, DH, Are, SWE, 2007
25th, DH, Schladming, AUT, 2013
WORLD CUP
7th, DH, Kvitfjell, NOR, 2019
5th, DH, Val Gardena, ITA, 2018
9th, DH, Beaver Creek, Colo., 2018 - Tied with teammate Bryce Bennett
12th, DH, Lake Louise, 2018 - Comeback race and his career best finish on the track
3rd, DH, Val Gardena, ITA, 2017
2nd, DH, St. Moritz, SUI, 2016
3rd, DH, Kvitfjell, NOR, 2016
2nd, DH, Chamonix, FRA, 2016
3rd, DH, Jeongseon, KOR, 2016
Hat trick victories at the Saslong Classic DH (Val Gardena, ITA, 2006, 2012, 2015)
Three career podiums at Birds of Prey DH (Beaver Creek, CO, 2007-2008, 2015)
Ranked 6th in 2016 DH standings
Ranked 6th in 2015 DH standings
Ranked 10th in 2007 DH standings
U.S. CHAMPIONSHIPS TITLES
2005, DH, Mammoth Mountain, CA
2003, DH, Whiteface, NY
OTHER
2004 Europa Cup downhill win, NorAm super G wins
2002 Junior Worlds slalom champion, sliver in combined