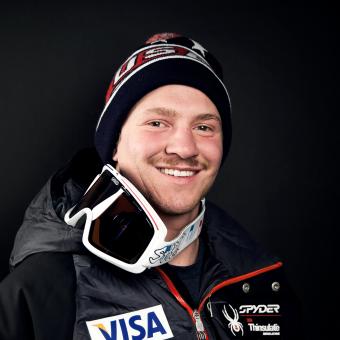 Another member of the famous 'Skiing Cochran's' lineage, Robby Kelley is the son of Steve and Lindy Kelley. Lindy was a 1976 Olympian and eight-year member of the U.S. Ski Team in the 70's. Older siblings Tim and Jessica have also been members of the U.S. Ski Team and have roots at the University of Vermont. Cousin Jimmy Cochran is also an alumnus, while his other cousin Ryan Cochran-Siegle is also on the U.S. Ski Team.
Kelley may have the family legacy behind him, but this young upstart has the results to back it up and to keep writing history. His first World Cup points happened at one of the most challenging and legendary giant slalom tracks in ski racing lore: Adelboden. To put it in perspective, Ted Ligety had not won at Adelboden until 2013 and Kelley knocked out a 23rd in his first start on the historic slope.
Stateside, he fell short of defending his GS U.S. Championship title from teammate Tim Jitloff. But a silver medal isn't too shabby, and it provides just the right amount of motivation for summer training.
FIRST TRACKS
While growing up in Vermont, skiing at Cochran's Ski Area was a part of life. For Kelley, it started at age two. In order to ski race, he split his high school experience between Mt. Abraham High School in Bristol, VT and the Mt. Mansfield Winter Academy in Stowe. In the fall and spring, he played traditional sports like soccer and baseball at Mt. Abraham and then spent the winters in Stowe at the Winter Academy. With mom and dad both as grads of UVM, it was the obvious next step before joining the U.S. Ski Team program in 2012.
OFF THE SNOW
It's all about sports, "baseball, soccer, football, basketball – you name it, I'll play it. I'm pretty much playing sports during any free time I have." He's also a big fan of the Vermont life, which on any given day can include skeet shooting, hiking, golf and throwing darts – all in the same day. 
Team Info
Cochran's Ski Club/Mt. Mansfield Ski Club
Results
WORLD CHAMPIONSHIPS
26th, GS, Schladming, AUT, 2013
WORLD CUP
25th, SL, Wengen, SUI, 2017
28th, GS, Adelboden, SUI, 2014
First points, 23rd, GS, Adelboden, SUI, 2013
Debut, GS, Soelden, AUT, 2012
U.S. CHAMPIONSHIPS TITLES
2012, GS, Winter Park, Colo.
OTHER
2012 NorAm GS champion
2011 All-East First Team at UVM
Top Junior in giant slalom at 2010 U.S. Championships