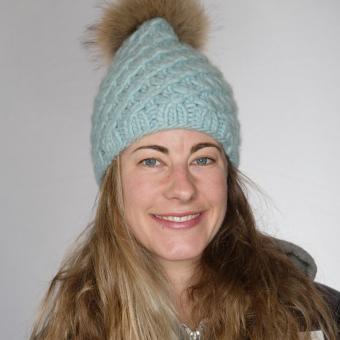 Olympian and daughter to Olympic gold medalist Pepi Stiegler, Resi (RAY-zee) Stiegler was born and grew up in prime ski country (Jackson Hole, Wyo. and Lienz, Austria). She's represented the United States at every level of alpine ski racing—Topolino, Whistler Cup, Junior Worlds, World Cup, World Championships and the Olympics. She's won Junior Worlds medals and U.S. titles and has stood on the World Cup podium.
Stiegler may only be 32, but she has more experience than most people double her age. This U.S. Ski Team veteran entered the 2015 season as an independent, after not meeting criteria for the first time in her long career, but also with two consecutive injury-free seasons and full prep periods, which is something she had never experienced before.
It paid off for Stiegler, who worked her way back to "A" team status for the 2016 season. Diving into a return-to-snow program with coach Bernd Brunner and teammates Thomas Biesemeyer (Keene, N.Y.), Ryan Cochran-Siegle (Starksboro, Vt.) and Erik Arvidsson (Woodside, Calif.), fittingly dubbed "#teamresitommyryanANDerik," Stiegler found comfort in a new family, and inspiration to fight. She battled back to what ended up being the best comeback season of her career, grabbing seven top-15 finishes, two top-10 finishes and was ranked 13th in the world in slalom.
Next time you're watching a World Cup race, keep a close eye on Stiegler in the finish. Whether in eighth or 25th, Stiegler comes through the finish and greets the crowd with a smile, throwing her arms the air in celebration and laughing contagiously. The reaction? The crowd goes wild. This simple, pure act of joy is an example for all – whether it be her teammates or young competitors – to find joy in what you do for a living and share that joy with everyone around you.
FIRST TRACKS
She was skiing at two and racing at six. In '99, Stiegler was a silver medalist in giant slalom and bronze medalist in slalom at the Western J3 Juniors Olympics. A year later she won gold in both events at JOs. She earned World Cup starts for '03 by finishing second (with one win) in the 2002 NorAm slalom points and then gave a preview of her 2003 breakout, tearing through European-packed fields (before the Park City World Cups) to finish sixth in the first two Super Series giant slaloms. "I didn't go to World Juniors last year, so I'm going to make it to the real World Championships this year," she said. And she made it.
In her first Juniors Worlds in '03, she won bronze medals in slalom and combined. Stiegler credits not only her parents but also another Olympic champion and silver medalist, former Olympic and world champion Diann Roffe. Roffe coached Stiegler in a U.S. Development program for several winters, helping sculpt her into such a promising racer.
OFF THE SNOW
Stiegler splits her time between Jackson Hole and Hawaii. That is when she's not lapping the globe with a special bag that has nothing to do with skiing; it holds her computer and mess of gluten-free food. Especially popcorn. But if you want to really get to know Stiegler, the character, be sure to follow her on Instagram. Her eye for art and passion for photography is beautifully apparent.
 
Team Info
2006 Turin
2014 Sochi
2018 Pyeongchang
Park City Winter Sports School
Results
OLYMPICS
11th, CO, Torino, ITA, 2006
12th, SL, Torino, ITA, 2006 
29th, GS, Sochi, RUS, 2014
36th, GS, Pyeongchang, KOR, 2018 
WORLD CHAMPIONSHIPS (top 20)
Teams: 2003, 2005, 2007, 2009, 2011, 2013, 2015, 2017
6th, SL, Santa Caterina, ITA, 2005
8th, SL, Are, SWE, 2007
10th, Combined, St. Moritz, SUI, 2003
19th, SL, Garmisch-Partenkirchen, GER, 2011
19th SL, Val d'Isere, FRA, 2009
19th, SL, St. Moritz, SUI, 2003
WORLD CUP (highlights)
2nd, SL, Ofterschwang, GER, 2012
7th, SL, Zagreb, CRO, 2017
Ranked 13th in SL, 2016
8th, SL, Crans Montana, SUI, 2016
9th, CE, Stockholm, SWE, 2018
9th, CE, Stockholm, SWE, 2017
10th, SL, Aspen, Colo., 2016
Eight top-15 and three top-10 World Cup finishes, 2016
Ranked 22nd in SL, 2015
13th, SL, Zagreb, CRO, 2015
11th, SL, Aspen, Colo., 2014
25th in overall standings, 2007
15th in SL standings, 2006
11th in first World Cup race (SL, Lenzerheide, SUI, 2003)
U.S. CHAMPIONSHIPS TITLES
2007, SL, Alyeska, Alaska
2007, GS, Alyeska, Alaska
OTHER
Combined silver at 2005 Junior World Championships
Bronze in SL and combined at 2003 Junior World Championships