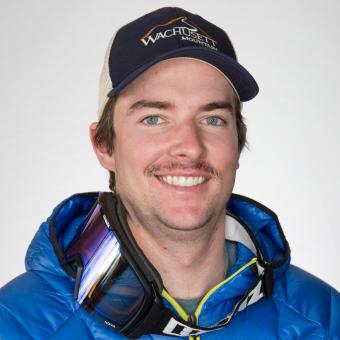 One of a handful of U.S. national team athletes from Vermont's Stratton Mountain School, Nick Krause has international experience already in the bag. 
Krause had an excellent season going with solid top 10 consistency at the NorAm level, then steamed right into the Junior World Championships and slammed a top 25 in super G. His confidence was high during the downhill, but he crashed and was knocked out of competition for the remainder of the 2014 season–the second-straight season an injury prematurely ended his winter. 
In 2016, Krause saw success on the NorAM and Europa Cup circuits and finished fifth in the super G at U.S. Alpine Championships in Sun Valley, ID. He also made his World Cup debut in Hinterstoder, Austria. He had hoped to make the World Cup his home in the 2017-18 season, but unfortunately, a December 2017 injury sidelined him again. He's back, and he's strong, so look out for Krause to make the World Cup more of a habit in 2018-19!
FIRST TRACKS
"My ski career began at age three with my mom, dad and sister, Laura. We'd ski at areas around the East and I quickly became enthralled with skiing the NASTAR gates. I moved on to the Wachusett Race Team where I began training four days a week–that shaped the person and skier I am now. Spending time at Wachusett-racing and freestyle–it was clear that I took my skiing to the next level. As a first-year J3, I once again moved up to the next level of competition and was recruited to Stratton Mountain School in VT. During my senior year at Stratton Mountain School, I was asked to join the U.S. Development team. I obviously accepted the offer and have been skiing with the U.S. Ski Team ever since. I had two full years on the USST D Team, and then moved up to the C Team in 2014." 
OFF THE SNOW
Call him a renaissance man. Krause has been known to listen to everything from Notorious BIG to Katy Perry to Edward Sharpe. He's also into watching animated TV shows, but especially Family Guy.
Results
WORLD CUP
First World Cup Start Hinterstoder, AUT, SG, 2016

U.S. ALPINE CHAMPIONSHIPS
5th, SG, Sun Valley, Idaho, 2016

OTHER
First World Cup start, SG, Hinterstoder, AUT, 2016
21st, SG, Jasna, SVK – Junior World Championships, 2014
15th, SG, Le Massif, CAN – Junior World Championships, 2013
3rd, GS, Vail, CO – career first NorAm podium, 2013
3rd, DH, Copper Mountain, CO – U.S. Championships – Junior, 2013