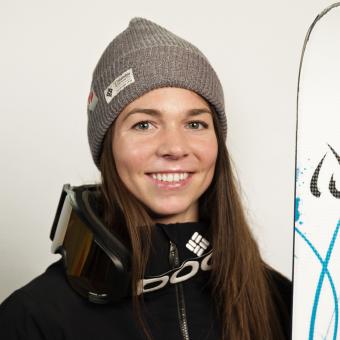 After a few years stacking up impresive finishes on the NorAm circuit, New Hampshire native Nessa Dziemian has a break out year in 2015, capturing the NorAm title and two podiums at U.S. Nationals, including the dual moguls title. She's continued to see success at the World Cup level with six top-10 finishes. Dziemian is on the comeback from a knee injury and looking to ski strong in 2019.
Q: Favorite moment in your career thus far?
A: Dualing Morgan Schild at the 2015 Apex NorAm. We literally skied side by side, going big off the airs, and just sending it. We ended up tying across the finish line. Definitely the most fun run I ever skied.
Q: What are your go-to travel items?
A: My passport, Bose Q35 and a Sketchbook.
Team Info
Loon Mountain Freestyle
Waterville Valley Black & Blue Trail Smashers
Carrabassett Valley Academy
Park City Freestyle
Carrabassett Valley Academy