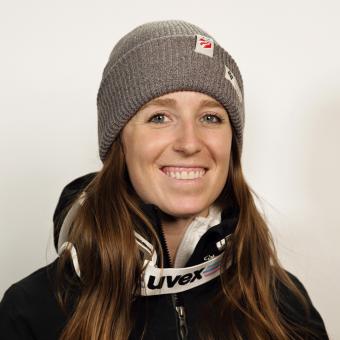 Mikaela Matthews has seen success at every level of moguls competition. As a veteran on the women's team. she has worked her way up from junior national titles to World Cup wins.After a strong prep period ahead of the 2016 season, Matthews came out on top in the World Cup opener in Ruka with her first career win. She netted a few more top-10 finishes on the World Cup to close out the season ranked 6th in the world. She also claimed her first national title. Matthews notched a few more top-10 World Cup finishes in the 2017 season and will be looking to secure a spot on the Olympic team in 2018. 
FIRST TRACKS
On skis just before the age of two, Matthews spent most of her beginning years skiing with her parents, both avid skiers themselves. At four Matthews started alpine racing with the Copper Mountain Race Club. She moved with her parents to Denmark after two years at Copper and began to explore the European slopes. It was during this time that she discovered her love for moguls. After living in Denmark for a year and a half, Matthews and her family moved back to the states. She then joined Team Summit at age eight, and has been skiing there ever since.
Q: What are your pre-competition rituals/superstitions?
A: The night before competition I almost always paint my nails a sparkly color. At my second World Cup start, one of my best friends came to cheer me on and she painted her nails with me and said they were "sparkles for speed!" I got my first top-10 finish on World Cup at that event, so the trend has stuck. Right before my run I listen to music very loud. I don't want to hear how anyone else is doing - I just want to ski my run. When I'm in the gate, I usually adjust all of my gear and make sure that everything is tightened down.
Q: If you weren't an athlete, what would you be doing?
A: Great question. I'm interested in something in the housing market. Maybe architect or interior designer.
Team Info
Colorado Mountain College
Results
WORLD CHAMPIONSHIPS
14th, MO, Voss, 2013
11th, DM, Voss, 2013
WORLD CUP HIGHLIGHTS
6th, MO, Lake Placid, USA, 2017
8th, MO, Deer Valley, USA, 2017
6th, MO, Ruka, FIN, 2016
4th, DM, Deer Valley, USA, 2016
1st, DM, Ruka, FIN, 2015
2nd, DM, Inawashiro, JPN, 2013
U.S. CHAMPIONSHIPS
1st, DM, Steamboat Springs, CO, 2016
3rd, DM, Steamboat Springs, CO, 2015
2nd, DM, Heavenly, CA, 2013