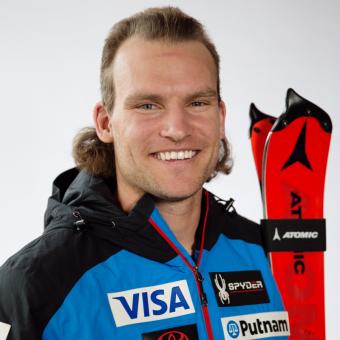 Home schooler Mark Engel has always been focused on skiing and it's showed in his rapid rise into the U.S. Ski Team fold. Most athletes enter the pipeline with the U.S. Development Team. After a few successful seasons with coach Guenther Birgmann, training at Treble Cone Race Academy (TCRA) in the summer and Sugar Bowl Academy in the winter, and winning back-to-back Western Region overall titles in 2010 and '11, Engel dove directly into the C Team ranks in 2011. He was with the C team from 2011-2013, but was hampered by back issues and did not qualify for the 2013/14 Team. From there, he put in the work and had another successful summer with TCRA before attending University of Utah and winning the NCAA title in GS before he qualified for the 2014/15 Team once again.
He scored his first World Cup points in the classic Adelboden, Switzerland during the 2017 season with a 24th place, and the highlight of the season was definitely his third-fastest first run in Zagreb, Croatia, just ahead of Austria's powerhouse Marcel Hirscher. He went out in the last five gates of the second run, which was heartbreaking, but at least Engel knows he can hang with the big dogs. 
From the 2018-19 season, Engel will represent the USA as a member of Team CLIF Bar Ski Racing. 
FIRST TRACKS
Dad had Engel on skis at age 2 and by 7 he was in the Alpine Meadows club program then directly into the Sugar Bowl Academy team by 11. Being one member of a family of skiers was helpful too. His older brother was a serious freeskier and older sister was a serious racer until college, but stopped racing to focus on becoming a nurse.
OFF THE SNOW
Mark is a hugely talented musician, and not only started playing gigs in Salt Lake City last summer, but also got signed to a record label called Sweet Salt Records. Along with signing with Sweet Salt Records, he released an album. He loves and lives for music and plays guitar, violin and banjo, "More than covering any band, I love to just play with friends and just make stuff up." Also very worthy of mention is that Mark is now the proud owner of a PT Cruiser, which—Brennan Rubie would like to note—cost less than Brennan's new bike. Rad.
 
Results
WORLD CHAMPIONSHIPS
First World Championships in St. Moritz, SUI, 2017
WORLD CUP HIGHLIGHTS
First World Cup Points, Adelboden, SUI, 2017
U.S. ALPINE CHAMPIONSHIPS
2nd, SL, Sun Valley, Idaho, 2018
4th, AC, Sun Valley, Idaho, 2018
4th, SL, Sugarloaf, Maine, 2016
4th, GS, Sugarloaf, Maine, 2016
3rd, SG, Squaw Valley, Calif., 2013
2nd, SC, Squaw Valley, Calif., 2013
OTHER
NorAM Slalom Champion, 2018
4th, GS, U.S. Alpine Championships, Sugarloaf, ME, 2015
NCAA GS Champion, 2014
3rd for juniors at U.S. Alpine Championships SG, 2011
Western Region overall champ '10/11