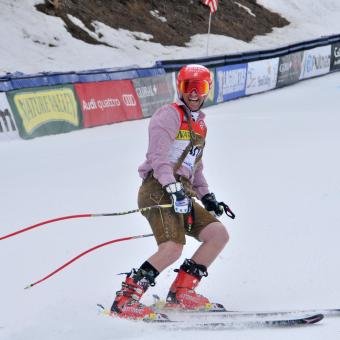 Marco Sullivan grew up in Lake Tahoe with skiing in his soul. He was on a ski hill in his earliest memory, coming down a snow-covered gravel hill in his backyard at three. He learned to go fast on some of the most legendary terrain in the world, then took that skill to the World Cup and won.
After an impressive 5th place result at the Lake Louise opening downhill, Sullivan looked to have some good momentum starting the 2015 season, but in races leading up to World Championships Sullivan struggled to find a groove. A veteran on the Team, "Sully" made the commitment to race next season after scoring some sweet results at the tail-end of the season at Garmisch (6th), Kvitfjell (12th) and Meribel (8th). In fact, he was having so much fun and was on such a roll that he didn't want the season to end. Good thing, too, as Sully's late-season resurgence earned him a spot back on the A Team. Yeah, #MarcoRocks!
Sullivan reached a milestone in the 2016 season, starting in his 105th World Cup downhill in Kvitfjell, Norway—an American Downhiller record, then decided to announce his retirement the next day after the super G. He was met in the finish area with the American Downhiller vest, and American flag and champagne. But that wasn't all. The big show came in Sun Valley, when Sullivan donned lederhosen and took his final lap. We're going to miss you, Sully!
FIRST TRACKS
Sullivan was on skis at three and racing by seven with Squaw Valley's Mitey Mites program. When he claimed a DH bronze medal in '99, coaches felt he was ready for varsity. A four-event skier early on, he was the slalom bronze medalist at '00 Juniors Worlds outside Quebec City before zeroing-in on speed racing with the 2001 season.
OFF THE SNOW
Sullivan is easy-going and always smiling. He enjoys kicking back with a fly rod or a cruise on Lake Tahoe or a good backpacking/mountain biking trip with his girlfriend (and retired Canadian slalom ace), Anna Goodman. He's also becoming a staple among the Alaskan community after winning the Hoodoo Mountains Arctic Man multiple times. Now a summer resident of Utah, Sully calls the Center of Excellence his part-time home in order to stay strong. 
Team Info
2002 Salt Lake City
2006 Turin
2010 Vancouver
2014 Sochi
Results
OLYMPICS (top 25)
Teams: 2014, 2010, 2006, 2002
9th, DH, Salt Lake City, UT, 2002
23rd, SG, Vancouver, CAN, 2010
30th, DH, Sochi, RUS, 2014
WORLD CHAMPIONSHIPS (top 25)
Teams: 2015, 2013, 2009, 2007, 2003
17th, SG, St. Moritz, SUI, 2003
24th, DH, St. Moritz, SUI, 2003
25th, DH, Val d'Isere, FRA, 2009
WORLD CUP (highlights)
105th DH start - a record among American Downhillers (Bode Miller has 104), Kvitfjell, NOR, 2016
Three top 10 downhill finishes, 2015
1st, DH, Chamonix, FRA, 2008
2nd, DH, Lake Louise, CAN, 2007
3rd, DH, Wengen, SUI, 2009
Finished 4th in 2008 downhill standings
U.S. CHAMPIONSHIPS TITLES
2009, DH, Alyeska, AK
2007, DH, Alyeska, AK
2002, SG, Squaw Valley, UT
OTHER
Five-time winner of the Arctic Man Ski and Sno-Go Classic
2001 Skicross World Champion
Slalom bronze medalist at 2000 World Juniors