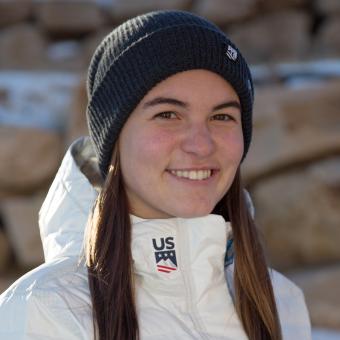 When you grow up in the town where the U.S. aerials team trains, inspiration isn't hard to find. Park City, Utah native Madison Olsen got her start on the moguls slope, but the monster aerials jump soon caught her eye and a dream was born. Olsen earned her first World Cup podium in 2016 with a third-place finish in Moscow Russia. She closed out 2017 on a high note with a career-best fifth place finish at the FIS World Championships and followed that up with an impressive 6th place finish at her first Olympics.
FIRST TRACKS
Growing up in the ski mecca of Park City, Olsen started skiing at the age of two. At 12 years old she started competing in moguls and decided to fully switch to aerials when she was 14. "Getting to watching the U.S. Ski Team train and compete, I decided that I wanted to pursue the goal of making the national team and to hopefully one day go to the Olympics," says Olsen
Results
OLYMPIC WINTER GAMES
Teams: 2018
6th, PyeongChang, KOR, 2018
WORLD CHAMPIONSHIPS
Teams: 2013, 2017
5th, Sierra Nevada, ESP, 2017
19th, Voss, NOR, 2013
WORLD CUP HIGHLIGHTS
3rd, AE, Moscow, RUS, 2016
JUNIOR WORLD CHAMPIONSHIPS
Silver, Valamenco, ITA, 2012
U.S. NATIONAL CHAMPIONSHIP TITLES
2012, Stratton, Vt.