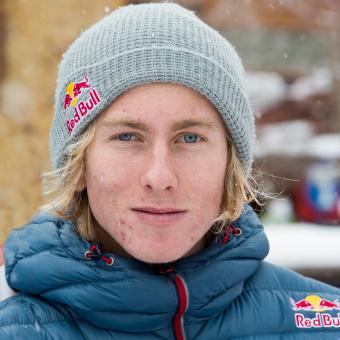 Lyon Farrell
Pro Slopestyle - Snowboarding
Lyon Farrell has action sports stardom in his genes. His father is a legendary big-wave surfer and his mother was a two-time Windsurfing World Champion who won a gold medal at the first-ever X Games. Lyon started out skateboarding and surfing from a young age in his hometown of Haiku, Maui, but it was learning to snowboard in his father's home country of New Zealand when he was 10 years old where he truly found his calling. 
Tell us something quirky about yourself that people would be amused to learn.
I like to do impressions and be a goofball. Having a dad that is from New Zealand has made really into trying to speak in different accents. I can speak Pidgin english.

What was the breakthrough moment when you realized you could compete at the elite level?
I would have to say when I was 16, I was in Austria and I landed a backside triple cork 1440 for the first time. I think that learning that trick made me realize that I could compete with the big dogs of competitive snowboarding.
Results
FIS WORLD CHAMPIONSHIPS
Teams: 2017, 2015
7th, BA, Sierra Nevada, 2017
WORLD CUP HIGHLIGHTS
First Podium: 3rd, SS, Seiseralm, ITA, 2018

FIS JUNIOR WORLD CHAMPIONSHIPS
Silver, HP, Valmalenco, ITA, 2014