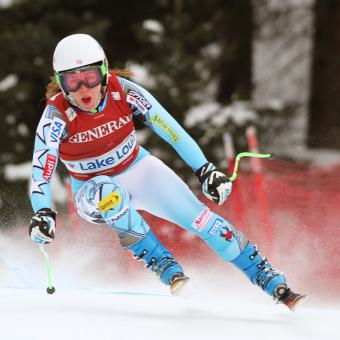 Two-time Olympian and 2010 U.S. Downhill Champion, Leanne Smith followed her older sister Laurel into skiing. A NorAm champion and top-flight junior skier, she inked a spot on the World Cup elite after finishing 23rd in her first career World Cup start, which also happened to be the first downhill of the 2008 season. It was only five years before she was standing on the World Cup podium in Val d'Isere.
Again plagued by injury in 2016, Smith was out much of the season. Talk about a fighter. This athlete is the definition of the word. When Smith was healthy and confident enough to put it all on the line, she was a contender for the podium in every race she started. She made her return to the World Cup circuit in 2017. 
FIRST TRACKS
On skis at six, Smith skied at Cranmore, the heralded Mount Washington Valley ski area made famous when instructional legend Hannes Schneider arrived there from Austria in 1938. Smith skied for Cranmore's race team until she entered Kennett H.S., where she continued racing and moved to the Mount Washington Valley Ski Team. Following high school, she spent the 2006-2007 year at UNH and took leave for winter 2007, joining the U.S. Ski Team on the development team when she erupted, having a breakout season as a double NorAm champion—catapulting her to the World Cup level.
OFF THE SNOW
Smith loves mountain biking, fly fishing, rock climbing–sometimes all in the same day, especially in the Mt. Washington Valley. When not stomping around the Granite State, check for her in Park City training at the Center of Excellence and taking in all that the Wasatch has to offer. Music wise, it's across the board with Smith: The Roots, Tallest Man On Earth, Modest Mouse and every now again, she'll throw some "trashy hip-hop song" on the iPhone playlist. "I've been known to throw in a little Wu-Tang from time to time...and country music." 
Team Info
Mt. Washington Valley Ski Team
2010 Vancouver
2014 Sochi
Westminster College, University of New Hampshire
Results
OLYMPICS
Teams: 2010, 2014
18th, SG, Sochi, RUS, 2014
18th, SG, Vancouver, CAN, 2010
21st, SC, Vancouver, CAN, 2010
WORLD CHAMPIONSHIPS (top 20)
Teams: 2011, 2013
12th, DH, Schladming, AUT, 2013
16th, SG, Schladming, AUT, 2013
19th, SG, Garmisch-Partenkirchen, GER, 2011
WORLD CUP (highlights)
Two DH podiums, 2013
12th in DH and SG standings, 25th in overall, 2013
19th in SG standings, 2014
Top 25 in downhill and super G standings (2011, 2012)
Points in four races during rookie season, 2008
U.S. CHAMPIONSHIPS TITLES
2010, DH, Aspen, CO
OTHER
2010 Europa Cup downhill win at Caspoggio, Italy
2007 NorAm overall and SG champion
2007 Ski Racing Junior of the Year
10th in SG at '07 Junior World Championships