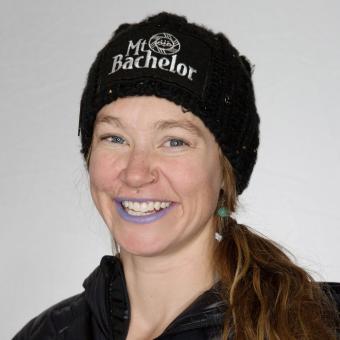 A talented artist as well as a ski racer, Laurenne Ross is one of the most dynamic athletes on and off the snow with incredible talent on violin, piano, guitar, vocals and as a visual artist. Born in Edmonton, Alberta, Ross cut her teeth at a small local hill but headed to the Canadian Rockies on weekends, where she raced her Dad (a former alpine racer) to the lodge. A creative to the core who is a seasoned vet when it comes to creating both visual beauties in the classroom and beauty in the form of arcs on the snow, the only question now is just how much more beauty Ross can create as she finds her consistent home back on the podium.
Since her World Cup debut in 2010, it was evident the podium wasn't going to be too far behind. Ross proved that in 2013, but 2014 was a different animal. After a slower than normal start to the season, Ross picked things up in the run-up to the Olympics and then posted a season-best 11th in the Sochi downhill. Ross started the 2015 season off strong, leading a solid effort by the women's speed squad that saw four athletes in the top nine. It was the strongest U.S. women's downhill team performance in two seasons. Ross went on to lay down a solid season with two 4th place finishes, six top 10 finishes and twelve top 15 finishes between World Cup races and World Championships.
After a solid, fast and consistent 2015 season, Ross nailed consistency in an even bigger way in 2016 with a steady and impressive climb to find her home on the podium once again. Ross amassed 14 top 15 finishes, nine top 10 finishes, and five top-five finishes—across three disciplines. Count 'em! At U.S. Alpine Championships in late in the 2017 season, Ross suffered from a severe knee injury and worked tirelessly to make it back in time to qualify for the 2018 Olympic Team. It was a challenging feat, but keep an eye on Ross, who will be heading into the 2018-19 season healthy and strong, with a full prep period injury-free. 
FIRST TRACKS
One of three daughters, Ross picked up skiing at age two because of her father's former alpine racing career. Like father, like daughter. The family kicked around at Snow Valley in Edmonton but headed to Canmore on the weekends, where Ross raced a bit at Lake Louise, Mt. Norquay, and Nakiska. After two seasons on the Development Team, Ross upped her status to the C-Team for 2010, but a haul of NorAm titles upgraded her in a hurry and she jumped to the top tier after the 2011 season.
OFF THE SNOW
It's all about rock climbing and creating for Ross—playing music, writing, knitting, and drawing. If there's a microphone around and music being played, Ross is in—on both—the music and the microphone. She's spearheaded many a winter jam session on tour with her teammates Mancuso, Cook, McKennis, and Smith, which spurred the FIS to make a film about the band. Summertime is spent working on her home, which she bought at the opening of the 2012 season, as well as catching up on classes—mostly art—at the University of Oregon.
 
Team Info
Mt. Bachelor Sports Education Foundation
2014 Sochi
2018 Pyeongchang
Results
OLYMPICS
11th, DH, Sochi, RUS, 2014
15th, DH, Pyeongchang, KOR, 2018 
15th, SG Pyeongchang, KOR, 2018 
WORLD CHAMPIONSHIPS
Teams: 2011, 2013, 2015, 2017, 2019
5th, DH, St. Moritz, SUI, 2017
14th, SG, St. Moritz, SUI, 2017
15th, AC, St. Moritz, SUI, 2017
10th, DH, Garmisch-Partenkirchen, GER, 2011
11th, SC, Schladming, AUT, 2013
14th, AC, Vail/Beaver Creek, USA, 2015
15th, SG, Vail/Beaver Creek, USA, 2015
16th, SG, Garmisch-Partenkirchen, GER, 2011
17th, DH, Vail/Beaver Creek, USA, 2015
22nd, SG, Schladming, AUT, 2013
28th, SC, Garmisch-Partenkirchen, GER, 2011
WORLD CUP (highlights)
8th, SG, Val d'Isere, FRA, 2018 (in just her second start back from injury)
Ranked 18th in overall, 10th in DH, 8th in SG and 16th in AC, 2016
2nd, SG, Soldeu-El Tarter, AND, 2016
2x 5th, DH, La Thuile, ITA, 2016
5th, DH, Garmisch-Partenkirchen, GER, 2016
Ranked 26th in overall, 11th in DH, 18th in SG, and 17th in AC, 2015
4th, DH, Cortina d'Ampezzo, 2015
4th, DH, Lake Louise, CAN, 2014
2nd, DH, Garmisch-Partenkirchen, GER, 2013
Ranked 26th in overall, 16th in DH and 13th in SG, 2013
4th, SG, Tarvisio, ITA, 2011
Ranked 16th in SG, 22nd in SC and 30th in DH, 2011
Ranked 22nd in DH, 28th in SC and 29th in SG, 2012
First World Cup start (21st, DH, Crans Montana, 2010)
U.S. CHAMPIONSHIPS TITLES
2013, SG, Squaw Valley, CA
OTHER
2010 NorAm overall, DH and SG champion
Two-time Junior Worlds Team member (2006, 2008)