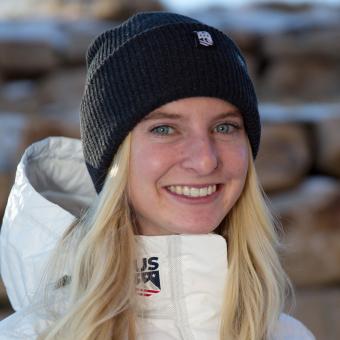 Kiley McKinnon's rise to success in aerals began back in 2015 when she scored her first world cup podium at the season opener in Beijing. She never looked back, winning a World Championship silver medal and an overall World Cup title, landing multiple World Cup podiums, including her first win in 2018, and finishing in the top 10 at her first Olympics.
Q: What was your earliest memory of being on snow?
A: I started skiing when I was about three years old. My earliest memories on snow were with my family. I spent every weekend skiing in Vermont growing up. I can specifically remember learning how to ski with my dad. He was holding onto me with the harness and I yelled at him to take it off me so I could ski on my own. He took it off and I skied away. I don't think he ever put me on the harness again! 
Q: What are your pre-competition rituals?
A: My pre-competition ritual is listening to the same song over and over again with my teammate Ashley Caldwell in our room before getting ready to jump. The song changes depending on what we are into that season, but once we pick it becomes our song for the year.
Team Info
Elite Aerial Development Program
Results
OLYMPIC WINTER GAMES
Teams: 2018
10th, PyeongChang, KOR, 2018
WORLD CHAMPIONSHIPS
Teams: 2013, 2015, 2017
Silver, Kreischberg, AUT, 2015
WORLD CUP HIGHLIGHTS
8 career World Cup podiums
1 career World Cup win
First podium (3rd, Beijing, CHN, 2014)
First win (Moscow, RUS, 2018)
2015 World Cup title winner