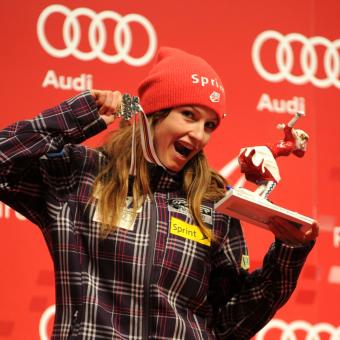 Julia Mancuso split her time between Squaw Valley, Hawaii and hotel rooms across the globe. In between, she has captured more major championship medals than any other American woman with nine – four Olympic and five World Championship before retiring during the 2017-18 season. As a four-event athlete from the beginning, Mancuso started World Cup racing and was a NorAm champion at 16, competed in the Olympics at 17, set a U.S. record for Junior World Championships medals before she was out of her teens, and then started her twenties by capturing two World Championships medals.
Before Sochi, Mancuso was already the most successful American woman in Olympic alpine skiing history. She decided to add to that legacy in Sochi with a stunning bronze medal in super combined to kick off the women's racing at the Games. Her storied career now includes an Olympic medal in every color with gold in 2006 and a pair of silver medals from 2010, making her the only American woman to earn one of each. The flush also puts her in the company of long track speedskater Bonnie Blair and short track speedskater Apolo Ohno with medals in three straight Olympics.
The women's speed team opened the 2014/15 season with a bang, as Lindsey Vonn (1st), Stacey Cook (2nd) and Julia Mancuso (3rd) snagged the first-ever historic U.S. podium sweep in the Lake Louise downhill. However, the 2016 season saw Olympic champion Julia Mancuso sitting on the sidelines, as she underwent hip surgery. Mancuso plans to take a conservative approach to recovery that will set her up for success in Korea in 2018, "If I were to try to push through, get more treatments and try to ski this season, I would just be setting myself back towards the real goal, which is PyeongChang 2018."
Mancuso has made a return to the World Cup circuit in 2018. 
FIRST TRACKS
Mancuso was on skis at two at Squaw Valley but didn't race until she was eight, and then she started making up for lost time. She was named to the 2000 Development Team (with older sister April) and her World Cup debut came a few months later when she narrowly missed making the top-30 cut in a slalom race at Copper Mountain. She would go on to pillage the next few Junior World Championships, setting a new U.S. record with eight medals (five golds, three bronze).
OFF THE SNOW
Mancuso loves the ocean life in Maui, where she spends most of her time when not traveling around the world. A big fan of stand-up paddling, surfing and yoga, you can follow all her adventures through your favorite social media outlets or on juliamancuso.com. Philanthropy isn't as much of a hobby for Mancuso as it is a way of life. She's continually raising money for various charities, including Right to Play and the High Fives Foundation. She's also jumped into the business world by designing and selling her own line of underwear while also owning and running a gym (Performance by JM) in Lake Tahoe. 
Team Info
2002 Salt Lake City
2006 Turin
2010 Vancouver
2014 Sochi
The Park City Winter School
Results
OLYMPICS (top 15)
Gold, GS, Torino, ITA, 2006
Silver, DH, Vancouver, CAN, 2010
Silver, SC, Vancouver, CAN, 2010
Bronze, SC, Sochi, RUS, 2014
7th, DH, Torino, ITA, 2006
8th, GS, Vancouver, CAN, 2010
9th, SG, Vancouver, CAN, 2010
11th, SG, Torino, ITA, 2006
13th, Combined, Snowbasin, UT, 2002
WORLD CHAMPIONSHIPS (Medals)
Teams: 2003, 2005, 2007, 2009, 2011, 2013, 2015, 2017
Silver, SG, Garmisch-Partenkirchen, GER, 2011
Silver, SC, Are, SWE, 2007
Bronze, SG, Schladming, AUT, 2013
Bronze, SG, Santa Caterina, ITA, 2005
Bronze, GS, Santa Caterina, ITA, 2005
WORLD CUP (highlights)
3rd in Historic First-Ever U.S. podium sweep, along with Lindsey Vonn (1st) and Stacey Cook (2nd) (Lake Louise DH, 2014)
Ranked 21st in overall, 13th in DH, 11th in SG, and 12th in AC, 2015
Career-best season with third in overall standings (four wins), 2007
Four of six super G podiums, second in discipline standings, 2013
Top 10 in overall (4th), downhill (5th), super G (2nd) and giant slalom (9th) standings, 2012
Seven victories and 35 podiums between 2006-2012
World Cup podiums in all five disciplines
U.S. CHAMPIONSHIPS (16 titles)
2013, GS, Squaw Valley, CA
2012, GS, Winter Park, CO
2012, SG, Winter Park, CO
2011, GS, Winter Park, CO
2011, SG, Winter Park, CO
2010, GS, Whiteface, NY
2009, GS, Alyeska, AK
2009, Combined, Alyeska, AK
2007, SG, Alyeska, AK
2006, Combined, Sugarloaf, ME
2005, GS, Mammoth Mountain, CA
2005, Combined, Mammoth Mountain, CA
2004, Combined, Sugarloaf, ME
2003, DH, Whiteface, NY
2003, SG, Whiteface, NY
2003, GS, Whiteface, NY
OTHER
American record eight Junior World Championship medals
3rd in 2010 Verbier Extreme Skiing event
Four-time Ski Racing Junior of the Year