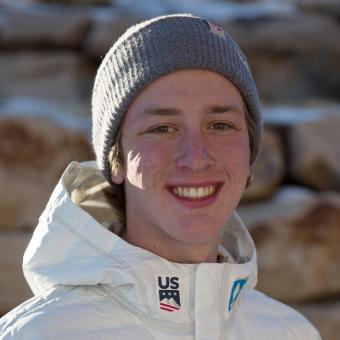 Four NorAm podiums and a sixth place finish at National Championships in 2014 landed Harrison Smith a spot on the U.S. aerials ski team for the 2015 season. He's also got a junior world championships gold medal and two national titles. After battling back from injury, Smith secured the NorAm title and is looking to land more top results.
Q: What is your earliest memory of being on snow?
A: My earliest memory of skiing is when I would ski this little hill a few minutes away from my house in New York. I was two years old and the hardest part for me was just holding on to the tow rope without falling off!
Q: What are your pre-competition rituals/superstitions?
A: One of my rituals for training and competitions is always putting my right boot on first and then left boot and buckling them in the pattern same way every time.
Team Info
Bristol Mountain Snow Sports Club
Results
WORLD CUP
Best finish: 6th, Moscow, RUS, 2016
U.S. CHAMPIONSHIPS TITLES
2018, Park City, Utah
2016, Steamboat, Colo.

JUNIOR WORLD CHAMPIONSHIPS
Gold, Valmalenco, ITA, 2015