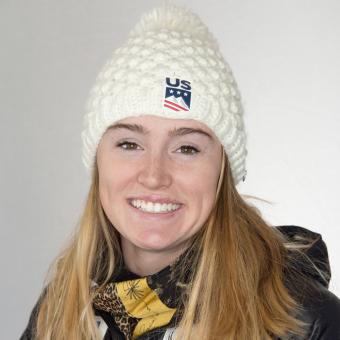 Galena Wardle joined the D Team in 2016 and made the jump to the C Team in 2017, where she is today. She'll be one to keep an eye on in the future, as she snagged her first National title in the 2016 season at U.S. Alpine Championships in Sun Valley, ID in the combined and was eighth in the super G. Wardle has her sights set on competing on the World Cup circuit and knows that she has to push and work harder than ever to reach her goal. Keep an eye out for Wardle, who looks to return from injury strong and dominate the NorAm Cup Circuit in 2019.
FIRST TRACKS
Hailing from the U.S. Ski & Snowboard's Team Academy, Wardle started skiing at age two with her parents, who were both ski instructors in Aspen. She'd spend her childhood splitting time between Aspen in the winter and Las Lenas, Argentina in the summer, where her parents worked. Between the mountains of Aspen and Las Lenas, she learned how to ski and acquired a strong passion for the sport. When she was eight, she started ski racing at Aspen Valley Ski Club and from then on knew she wanted to be the best in the world.
OFF THE SNOW
A little-known fact about Galena: she speaks four languages (French, Spanish, Portuguese and English) and she unicycles. Rad!
Results
U.S. ALPINE CHAMPIONSHIPS (highlights)
4th, GS, Sugarloaf, Maine, 2017
6th, SG, Sugarloaf, Maine, 2017
1st, AC, Sun Valley, Idaho, 2016
8th, SG, Sun Valley, Idaho, 2016
19th, DH, Sugarloaf, Maine, 2015

U.S. JUNIOR ALPINE CHAMPIONSHIPS
2nd, GS, Sugarloaf, Maine, 2017
2nd, GS, Copper Mountain, Colo., 2015
6th, SL, Copper Mountain, Colo., 2015
FIS JUNIOR WORLD SKI CHAMPIONSHIPS (highlights)
11th, SG, Are, SWE, 2017
16th DH, Are, SWE, 2017
20th, SL, Sochi, RUS, 2016
6th, AC, Sochi, RUS, 2016
World Juniors Team Member, Hafjell, NOR, 2015