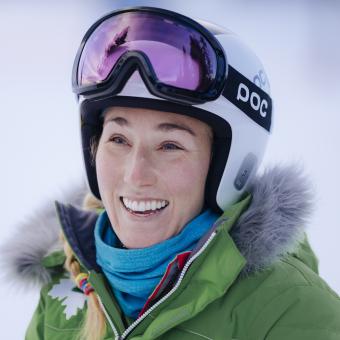 Squaw Valley's Foreste Peterson was invited to train with the U.S. Development Team in Austria in 2010 and rallied that experience into a spot on the Team for the 2011 season. In 2015, Peterson decided to take her skills to the NCAA circuit, where she made big gains for the Big Green fast. She quickly established herself as Dartmouth's top female alpine skier with five podium finishes as a rookie, one in each of the first five carnivals. She was All-East First Team in her first season with the team. As a sophomore, Peterson earned All-America First Team honors in the giant slalom by placing fifth at the NCAA Championships in 2016.
Then, she had what might be her biggest, breakthrough season in 2017, with three podiums and top 10 in seven out of eight races. Not only was it her most successful season on the NorAm circuit, finishing third overall in giant slalom on the season, but on the collegiate circuit Peterson also won three giant slalom races and finished second in the Eastern Intercollegiate Ski Association giant slalom standings. At the NCAA Championships at Cannon Mountain, New Hampshire, she finished third in the slalom, an unexpected result because slalom has not historically been Peterson's best event. She snagged All-America First Team honors, All-East First Team honors, and was named to USCSCA National Collegiate All-Academic Ski Team. 
Following her standout NorAm and collegiate season in 2017, Peterson was invited to train with the U.S. Ski Team Europa Cup and World Cup teams. This entailed living in Park City, Utah and working out at the U.S. Ski Team's Center of Excellence as well as traveling to New Zealand for a month of on-snow training. Women's alpine coach John Dwyer believes this gave Peterson quite the advantage, as she already had about 40 days on snow going into the 2018 season. In her final season in 2018, she led the Dartmouth Ski Team to a third place finish at this year's NCAA Ski Championships, among its best results in years. The team captain was among the most successful athletes for the Big Green at any level of competition over the last four years, with dual All-American First-Team honors and four All-East First Team honors. 
"My proudest moment didn't physically take place at Dartmouth, but rather [as] I was representing Dartmouth while I raced in my first ever World Cup races this season," Peterson said. "Getting to compete on the world stage like this has always been a dream of mine, and to do it while being a member of the Dartmouth ski team was especially cool."
Now, Peterson proudly skis for a new independent team called "Team X Alpine" (X for females two X chromosomes). The team is a small, elite, female post-graduate team, committed to taking a "best practice approach." Keep your eyes on Peterson as her positive attitude and fierce on-hill skills take her to to the NorAM and potentially World Cup circuits in the 2018-19 season. 
Team Info
Team X Alpine
Squaw Valley Ski Team
Results
WORLD CUP
First World Cup start, Soelden, Austria, 2017

U.S. CHAMPIONSHIPS
2nd, GS, Sun Valley, Idaho, 2018
2nd, GS, Sugarloaf, Maine, 2017
4th, SL, Sugarloaf, Maine, 2017
4th, GS, Squaw Valley, Calif., 2014
4th, SL, Squaw Valley, Calif., 2014
5th, SL, Sugarloaf, Maine, 2015
UNIVERSITY (Dartmouth)
2016-2017 Class of 1976 Award Winner (Most Outstanding Female Athlete)
Academic All-Ivy honors 2016, 2017 and 2018, with a 3.74 GPA majoring in environmental studies
USCSCA National Collegiate All-Academic Ski Team, 2017

NORAM
3rd, NorAM Cup Standings, GS, 2017
4th, NorAM Cup Standings, GS, 2018
Top 15 in NorAm overall, slalom, super G and super combined standings, 2013