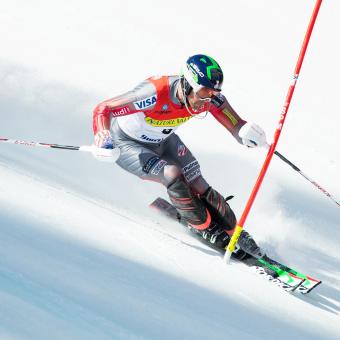 When Minnesota born David Chodounsky fell short of making the U.S. Ski Team after high school, he enrolled at Dartmouth and won the NCAA slalom title in his freshman year. Two years later he captained the school to the NCAA overall title then graduated with a double major in engineering and geology. Now that he's fully focused on skiing, Chodounsky has quickly risen to become the top men's slalom racer in the U.S.
The numbers keep going the right way for Chodounsky, who posted the best World Cup season of his career in 2014. Stats include a pair of top 10 finishes, including a personal best seventh in the Val d'Isere slalom. With all things flowing the right way, "Daver" also earned the first Olympic start of his career in Sochi. He went on to finish a career-best 19th in the World Cup slalom standings and locked the second U.S. Championship victory of his career at the Squaw Valley slalom.
He carried that momentum to the 2015 season, where his goals included scoring some World Cup giant slalom points—and he did just that. At Birds of Prey, Daver rocketed from bib 66 to finish 17th place in what was a race to remember for Chodounsky. Welcome to the 2016 season, Daver. Chodounsky grabbed his career-best finish, with a fourth in Val d'Isere. Add to that some more flashes of brilliance in giant slalom—highlighted by a 16th place finish at Birds of Prey—and Chodounsky is quickly becoming a two-discipline threat on the circuit. At the end of the season, Chodounsky had earned himself a top 15 rank in the world in what is currently an incredibly stacked field. Winning his fourth U.S. Championship slalom victory of his career in Sun Valley, ID was the icing on the cake. In 2018, Chodounsky qualified for his second Olympic team, and finished 18th in the slalom. Nice, Daver!
FIRST TRACKS
Being born in Minnesota, Chodounsky began skiing at two when Ma and Pa mounted a pair of whittled wooden planks and pushed him down the hill in the front yard. At seven he picked up racing and joined the local race team at Buck Hill, skiing with Lindsey Vonn under legendary coach Erich Sailer. When Chodounsky was 11, the family packed up for Crested Butte, CO to further his skiing. He attended Crested Butte Academy and continued to hone his skills at Dartmouth before making the U.S. Ski Team after the 2009 season.
OFF THE SNOW
Chodounsky lives for the mountain lifestyle, as long as it involves fishing in Colorado or Utah. He spends most of his summers crushing the gym at the Center of Excellence in Park City while taking in all the outdoor recreation available in the Wasatch.
 
Team Info
2014 Sochi
2018 Pyeongchang
Results
OLYMPICS
18th, SL, PyeongChang, KOR, 2018

WORLD CHAMPIONSHIPS
Team: 2017, 2015, 2013, 2011
12th, SL, St. Moritz, SUI, 2017
11th, GS, St. Moritz, SUI, 2017
29th, GS, Vail/Beaver Creek, USA, 2015
WORLD CUP (Highlights)
Career-best 15th in slalom standings, 2016
Five top 15 and seven top 20 finishes, 2016
4th, SL, Val d'Isere, FRA, 2016
26th in slalom standings, 2015
19th in slalom standings, 2014
21st in slalom standings, 2013
5th in Moscow parallel slalom, 2013
Top 10 in Adelboden slalom, 2013
Points in Zagreb, CRO, Wengen, SUI, and Schladming, AUT slalom races, 2011
U.S. CHAMPIONSHIPS TITLES (5)
2016, SL, Sun Valley, ID
2015, SL, Sugarloaf, ME
2015, Combined, Sugarloaf, ME
2014, SL, Squaw Valley, CA
2009 SL, Alyeska, AK
OTHER
2007 NCAA overall champion
2005 NCAA slalom champion