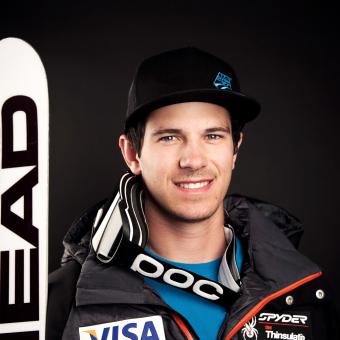 Brian McLaughlin
2018 NCAA Giant Slalom National Champion
A 2012 graduate of Green Mountain Valley School, Brian McLaughlin turned his time with the top Vermont club into a slot on the U.S. Development Team before graduating from high school. During the 2013 season, McLaughlin's finishes boosted him up to the C Team with the promise of starting his first Europa Cup races during the 2014 season.
Mclaughlin enrolled in Dartmouth College and represented the Big Green in a big way for the next four seasons, earning NCAA All-America First Team honors three years, from 2016-2018 and Academic All-Ivy honors in both 2017 and 2018. As a veteran member of the team, McLaughlin took on a leadership role and was crowned NCAA Giant Slalom National Champion in 2018. Additionally, McLaughlin won the NorAM giant slalom tile, earning himself a gauranteed FIS Ski World Cup start spot in every giant slalom for the 2018-19 season.
"I had a few of the best races of my career this season," McLaughlin said. "Winning the NCAA Championships [Giant Slalom] was really cool. The fact that it is such a team event and being neck and neck with [Tanguy Nef '20] was really special."
McLaughlin made his World Cup debut on home turf in Beaver Creek in December of 2017. The following year, he finished 18th in just his second career World Cup giant slalom start. He scored points again in Alta Badia, Italy, landing in 27th, and made his first World Championship team. McLaughlin earned himself a B Team spot with the U.S. Ski Team for the 2019-20 season. 

FIRST TRACKS
On skis at two and steadily improving each year since, McLaughlin did a couple of big things in 2011: he qualified for his first U.S. Championships and then landed a spot on the U.S. Development Team. During a trip to Aspen for the U.S. downhill title race, he packed in a heavy schedule of five NorAm races in five days and brought home his first NorAm top 20 in a super G. The face time with U.S. coaches prompted an invitation to the Development Team tryout camp that spring, where McLaughlin snagged a spot on the squad.
OFF THE SNOW
For McLaughlin it's all about the ball sports – baseball, football and golf – which he plays all summer in Vermont. He also loves traveling and exploring. "Life is just a journey that is about chasing the things you love."
Team Info
Dartmouth College
Green Mountain Valley School
Results
WORLD CHAMPIONSHIPS
Teams: 2019
WORLD CUP
27th, GS, Alta Badia, ITA, 2019
First World Cup GS points, Beaver Creek, Colo., 2018, 18th place
UNIVERSITY (Dartmouth)
NCAA Individual National Champion, GS, 2018
3x NCAA All-America First Team, 2016-Slalom; 2017, 2018-Giant Slalom)
3x All-East First Team, 2016, 2017, 2018
3x USCSCA National Collegiate All-Academic Ski Team, 2016, 2017, 2018
2x Academic All-Ivy, 2017, 2018
8 career victories
18 career podiums

OTHER
Two NorAm DH top 10's, 2013
3rd, DH, Aspen, Colo., U.S. Championships – Junior, 2012
1st, GS, Cerro Castor, ARG – South American Cup, 2012