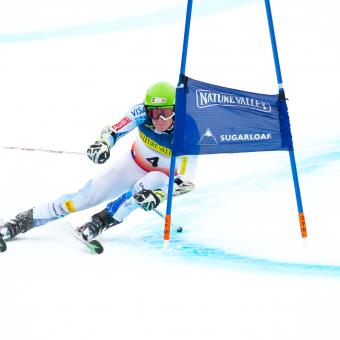 Brennan Rubie was involved in U.S. Ski Team camps until he punched a ticket into the U.S. Development program in 2010. The Snowbird shredder won NorAm races, scored World Cup points during his six-year racing career.
After a long rehab from a fractured leg he suffered during the 2013 season, Rubie was back in the saddle for 2014. He finished second in the NorAm GS standings in 2014 to hold on to his World Cup GS start for 2015, but struggled to put two runs together on the World Cup circuit in 2015. From there, Rubie hit the road to build confidence on the FIS and Europa Cup tours and brought that confidence into World Championships grabbing 26th in GS at Beaver Creek. Rubie then finished the season off strong, scoring some solid low point NorAm and FIS results.
FIRST TRACKS
Rubie's dad was a ski instructor at Snowbird and first hooked him up to the ski harness at two. It wasn't long before he joined the Bird's club program. "It's a different race program than most places. You learned to love skiing first, then racing." By the time he hit fifth grade, things were moving in the race direction. "Basically, I'd add a day of race training each year to the point where I was running gates six days a week."
OFF THE SNOW
His folks are also big windsurfers and began taking family trips to the wind mecca of Hood River, OR since he was eight years old. A big music fan, his iPod has more songs than he could listen to in a week. He's also got a killer movie collection—just ask him.
Team Info
Snowbird Sports Education Foundation
Results
WORLD CHAMPIONSHIPS
Teams: 2015
26th, GS, Vail/Beaver Creek, USA, 2015
WORLD CUP
27th, SG, Beaver Creek, CO, 2012 – during first World Cup start
OTHER
Second in 2014 NorAm GS standings
Three NorAm wins to open 2013 season
Bronze, SG, U.S. Championships, Winter Park, CO, 2012
Member of 2011 Junior World Championships Team
Two NorAm podiums in 2011
5th overall in 2011 U.S. Championships super G
Competed at 2007 Topolino races in Italy