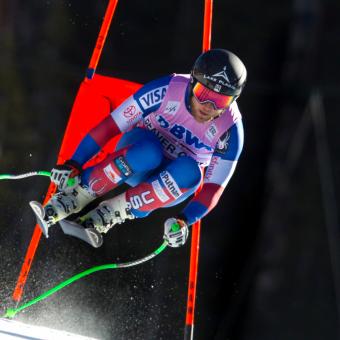 Andrew Weibrecht is sibling number four in a family of five and took up skiing after he begged his parents to let him join older brother Jonathan at the 1980 Olympic mountain of Whiteface. Now one of the most exhilarating ski racers to watch kick out of the start gate, Weibrecht transitioned from a kid swinging on his parents' chandeliers to becoming a two-time Olympic super G medalist.
Ted Ligety jokes that Weibrecht is the fastest racer in the world for 20 seconds of every race. Why? The 2010 Olympic super G bronze medalist hadn't placed better than 10th in a World Cup race since that historic bronze…that is until he did it again. Three turns into the 2014 Olympic super G, Bode Miller looked to friend and race leader Kjetil Jansrud of Norway in the leader box and said, "He's going to beat us." He was right on one account, as the Warhorse produced a truly inspirational run to bump Miller to bronze and secure the second Olympic medal of his career – this time silver. The result added his name to the elite two-medal club for American men along with Miller, Ligety, Tommy Moe and Phil Mahre.
Though Weibrecht has two Olympic medals to his name, he had yet to taste the World Cup podium until the 2016 season, grabbing his first Audi FIS Ski World Cup podiums at Birds of Prey (3rd) and the famed Kitzbuehel (2nd). After Kitzbuehel, Weibrecht found himself in the hunt for the super G title with Attacking Viking Aksel Lund Svindal, but in a heated battle amongst speed skiers ended up ranked eighth on the season in super G. Weibrecht looks forward to carrying the consistency and momentum into 2017.
FIRST TRACKS
Growing up in Lake Placid, he was with NYSEF from the start, and that start was at five. His older brother was a racer "and I felt left out," according to Weibrecht. His race training began five years later and he would go on to make the U.S. Development Team with the 2003 season and be named to the C Team for '05. He also raced at the '04, '05 and '06 JWCs, where he concluded his Junior Worlds portfolio with a bronze medal in super G.
OFF THE SNOW
Nicknamed the 'Warhorse' for the way he attacks the mountain, Weibrecht's first Olympic medal was honored with Lake Placid's Cottage Caf (owned by his folks Ed and Lisa) serving pints of Warhorse. The bar erupted again four years later with his spectacular silver medal and employees of the hotel promptly stamped his nickname into the snow on Mirror Lake in 25-foot letters. His medals are on display at the family owned hotel across the street from the Cottage. When things calm down in the summer, Weibrecht enjoys fishing, golf, mountain and road biking. He and his wife Denja are also the proud new parents of a beautiful baby girl named Addy.
 
Team Info
New York Ski Education Foundation
2010 Vancouver
2014 Sochi
2018 Pyeongchang
Results
OLYMPICS
Silver, SG, Sochi, 2014
Bronze, SG, Vancouver, CAN, 2010
11th, SC, Vancouver, CAN, 2010
21st, DH, Vancouver, CAN, 2010
WORLD CHAMPIONSHIPS (top 25)
Teams: 2015, 2013, 2009
22nd, AC, Vail/Beaver Creek, USA 2015
9th, DH, Vail/Beaver Creek, USA, 2015
20th, SG, Vail/Beaver Creek, USA, 2015
22nd, DH, Schladming, AUT, 2013
WORLD CUP
2nd, SG, Kitzbuehel, AUT, 2016
3rd, SG, Beaver Creek, CO, 2016 (first World Cup podium)
Ranked 8th in SG, 2016
Ranked 22nd in DH, 2016
Ranked 12th in SG, 2015
5th, SG, Kvitfjell, NOR, 2015
12th, DH, Kvitfjell, NOR, 2015
5th, SG, Kitzbuehel, AUT, 2015
10th, SG, Beaver Creek, CO, 2015
Qualified for Top 25 World Cup Finals for SG (2010, 2012, 2014, 2015)
Qualified for Top 25 World Cup Finals for DH (2010)
Stunning run from 53rd to 10th in Birds of Prey DH, 2007
OTHER
2007 NorAm overall/SC champ (3 wins)
2006 Junior Worlds SG bronze
2001 GS gold medalist at Topolino, ITA children's races