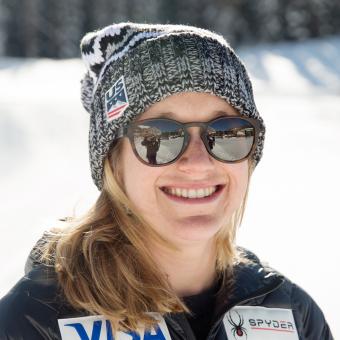 Formerly coached by five-time Olympian Casey Puckett, Alice McKennis knows a thing or two about speed events. Her resume speaks for itself with a World Cup downhill win, multiple World Cup super G top 10's, and a 20th in the World Cup DH standings as well as a spot on the 2010 Olympic Team during her rookie World Cup season.
After a March 2013 crash in Garmisch-Partenkirchen that shattered her right tibial plateau into about 30 pieces, McKennis came back strong in 2015 with eight finishes in the top 30 and three in the top 15. McKennis cemented her strong comeback from injury, finishing 13th on the same Kandahar piece she sustained injury in 2013, and capped the season with a strong 12th place finish at World Cup Finals in Meribel and her first U.S. Championship title, in super G at Sugarloaf, ME. In 2016, McKennis snagged four top 20 finishes, including a season-best 11th place finish at La Thuile. Keep an eye on this one—she'll be gunning for the podium again in 2018.
FIRST TRACKS
McKennis grew up on a cattle ranch, but she lived close enough to the mountains for her future career path to make sense. Her father, Greg, took her to Sunlight Mountain Resort in Glenwood Springs, CO before she had even turned two. She began racing at age five, following her older sister, Kendra, who later competed on the FIS (minor league) level for two seasons. When she was nine, McKennis joined Ski Club Vail, the club that was nurturing the all-around skills of Alpine star-in-the-making Lindsey Vonn. McKennis watched in awe and took some valuable mental notes as the U.S. Ski Team phenom, who was five years older than her, tore down the slopes. After several years of bouncing around different ski clubs in Colorado, McKennis landed with the Aspen Valley Ski Club.
OFF THE SNOW
McKennis was a competitive equestrian and competed in jumping, cross country riding and dressage until she was 15, hence her appreciation of country music. When she's not skiing or riding, you can find her at the local fishing hole, ripping on her mountain bike or enjoying the view from a tent. Also, McKennis and her dad regularly float the Colorado as well as any other stream they can find with rapids.
 
Team Info
Sunlight Winter Sports Club/Rowmark Ski Academy
2010 Vancouver
2018 Pyeongchang
Results
OLYMPICS
5th DH, Pyeongchang, KOR, 2018 
16th SG, Pyeongchang, KOR, 2018 
WORLD CHAMPIONSHIPS
Teams 2013, 2015
17th, DH, Schladming, AUT, 2013
WORLD CUP (highlights)
Ranked 18th in downhill in 2018 
3rd, DH, Are, SWE, 2018 - first podium since 2013
11th, DH, Cortina d'Ampezzo, ITA, 2018
15th, SG, Val d'Isere, FRA, 2018
14th, DH, Val d'Isere, FRA, 2017
Ranked 26th in downhill in 2016
11th, DH, La Thuile, ITA, 2016
12th, DH, Val d'Isere, FRA, 2016
Ranked 23rd in downhill in 2015
12th, DH, Meribel, FRA, 2015
13th, DH, Garmisch Partenkirchen, GER, 2015
11th, DH, Cortina d'Ampezzo, ITA, 2015
First World Cup Victory, St. Anton, AUT, 2013
Finished 10th in World Cup downhill standings, 2013
20th in DH standings during rookie World Cup season, 2010
U.S. CHAMPIONSHIPS TITLES
2015, SG, Sugarloaf, ME
OTHER
Nominated for 2010 Audi FIS World Cup Rookie of the Year
2009 NorAm DH and SG champion
4th in DH at 2009 Junior World Championships