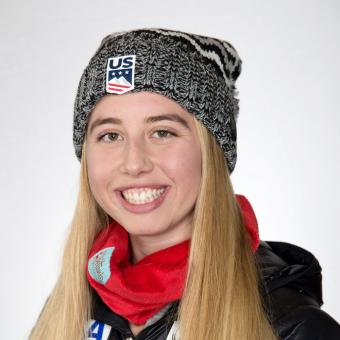 Ainsley Proffit, hailing from St. Louis, MO, makes her debut on the U.S. Ski Team for the 2019 season. She fell in love with skiing at Hidden Valley Ski Resort in Wildwood, Missouri, where she was introduced to racing through NASTAR. As she said in a recent interview, "Skiing is a great sport for all ages, and offers a great time for families. While you're skiing at Hidden Valley, you must check out the NASTAR course. It's such a fun race held there every weekend. I took hundreds of runs on that course; it's one of the things that got me hooked on racing."
Keep an eye on Proffit, who will be skiing in the NorAm series this season. 
What is your favorite memory as a competitor?
My favorite memory as a competitor would have to be my first FIS win. I was competing in a slalom race at Snowbird, Utah when I snagged my win. As soon as I crossed the finish line, my friends started to cheer. The roars of my friends could be heard throughout the valley as they embraced me in a celebratory group hug. Sharing the excitement of that victory with my friends truly made that race unforgettable.
When you're not not skiing or snowboarding, what are you doing for fun?
When I am at home in St. Louis, my favorite way to spend the day is boating on the Mississippi River. I absolutely love the water.
Team Info
Sugar Bowl Ski Team and Academy
Hidden Valley Ski Team
Results
U.S. ALPINE CHAMPIONSHIPS
10th, SL, Sun Valley, Idaho, 2018
13th, AC, Sun Valley, Idaho, 2018