"This is going to be one of my most challenging years ahead of me. I want to compete the 2022 Olympics. Now at the age of 31 this will more than likely be my last opportunity to compete in the games so my determination has never been higher."
4 Things You Didn't Know About Taylor Seaton
1. He won second place in the 2017 Freeski World Cup halfpipe event in Tignes, France
2. He has placed top ten in three different Grand Prix events and three different World Cup events.
3. Taylor is an instrument rated private pilot. He also has his real estate license and enjoys wrenching on different vehicles from cars to snowmobiles.
4. Taylor's three favorite movies are Home Alone, Mad Max, and Fast and Furious.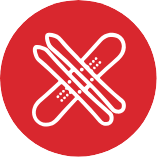 U.S. Grand Prix
4th, HP, Mammoth Mountain, Calif., 2017 •  6th, HP, Park City, Utah, 2016 •  6th, HP, Park City, Utah, 2009
Taylor's Favorite Gear!
Check out Taylor's favorite gear from U.S. Ski & Snowboard!