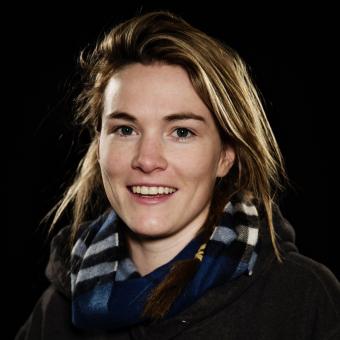 Annalisa Drew
Pro Halfpipe - Freeskiing
Annalisa Drew was a member of the inagural Olympic halfpipe skiing team in 2014, finishing 9th at the Sochi Games. The East-Coast-turned-Colorado girl has been consistently climbing the ranks of freeskiing competition since 2010, with a multitude of major wins under her belt. She was the first woman to land a 1260 in the halfpipe, doing so at Buttermilk Mountain in 2013.
Drew first made a name for herself with nine podiums during the 2011-2012 season, including podiums at the Aspen/Snowmass Open and USSA's U.S. Revolution Tour. In 2013 Drew got invites to X Games Aspen and Tignes, where she debuted her 1260 in the halfpipe. Even though she didn't land one, she made history becoming the first woman to attempt one in competition, which demonstrates her passion for progression. She also took the win at the North Face Park & Pipe Open Series in Whistler. 
The 2013-2014 season was one to remember for Drew. Having placed consistently well in the Olympic qualifying series, the coaches awarded her the coveted discretionary spot to be on the inaugural U.S. Olympic halfpipe team. Under the bright Sochi lights of the Rosa Khutor Extreme Park, Drew put down a solid first run in the finals, which included one of the only 1080's of the night. Unfortunately, she fell during her second run while attempting a 1260 and finished ninth. Smiling from ear to ear at the bottom of the course, Drew was thrilled to be part of her sport's history.
A successful 2015 season was capped with wins at the Aspen/Snowmass Freeskiing Open and the AFP World Tour Finals. In 2016 Drew earned her first X Games medal, a bronze at Aspen. She did so with a run that included a 1080 and back-to-back 900s. She then went on to finish second at the season-ending SFR Freestyle Tour in La Clusaz, France.
FIRST TRACKS
It all started when Drew was three years old at Loon Mountain, NH. When she was four, she was an excellent figure skater, practicing five days a week. She eventually joined the Loon Freestyle Team when she was in junior high. The figure skating paid off, offering confidence and air awareness on her jumps and spins.
OFF THE SNOW
Although rarely off the snow, Drew likes wakeboarding and playing any kind of sport when she has the chance. She played soccer, lacrosse, and hockey in high school and still enjoys them. Drew's online college courses also keep her busy.
 
Team Info
Ski & Snowboard Club Vail
University of Maine, Orono
Results
OLYMPICS
Teams: 2014
9th, HP, Sochi, RUS, 2014
X GAMES
Bronze, HP, Aspen, CO, 2016
8th, HP, Oslo, NOR, 2016
6th, HP, Aspen, CO, 2015
6th, HP, Aspen, CO, 2013
8th, HP, Tignes, FRA, 2013
AFP Rankings
3rd, HP, 2015
8th, HP, 2014
7th, Overall, 2014
4th, Overall, 2013
6th, HP, 2013
5th, Overall, 2012
FIS WORLD CUPS
20 World Cup starts, one win since 2011
FIS WORLD CHAMPIONSHIPS
Teams: 2013
9th, HP, Voss, NOR, 2013
GRAND PRIX
4th, HP, Park City, UT, 2016
9th, HP, Mammoth Mountain, CA, 2016
4th, HP, Copper Mountain, CO, 2014
4th, HP, Park City #2, UT, 2014
4th, HP, Park City #1, UT, 2014
5th, HP, Breckenridge, CO, 2014
6th, HP, Visa U.S. Freeskiing Grand Prix, Park City, UT, 2013
7th, HP, Visa U.S. Freeskiing Grand Prix, Copper Mountain, CO, 2013
OTHER
1st, HP, Aspen Freeskiing Open, Aspen, CO, 2015
2nd, HP, Dew Tour, Breckenridge, CO, Dec. 2014 
1st, HP, U.S. Revolution Tour, Copper Mountain, CO, 2014
1st, HP, The North Face Park and Pipe Open, Copper Mountain, CO, 2013
1st, HP, The North Face Park & Pipe Open Series, Whistler, BC, 2013
1st, HP, Aspen/Snowmass Freeskiing Open, Aspen, CO, 2013
1st, HP, Aspen/Snowmass Open, Aspen, CO 2012
1st, HP, USSA Revolution Tour, Mt Snow, 2012
1st, SS, USSA Revolution Tour, Mt Snow, 2012
1st, HP, USASA Nationals, Copper Mountain, CO, 2012
1st, SS, USSA Revolution Tour, Northstar, CA, 2012
2nd, HP, USSA Revolution Tour, Northstar, CA, 2012
2nd, SS, North Face Park & Pipe Open, Waterville Valley, NH, 2012
3rd, HP, USSA Revolution Tour, Copper Mountain, CO, 2012
3rd, SS, USASA Nationals, Copper Mountain, CO 2012