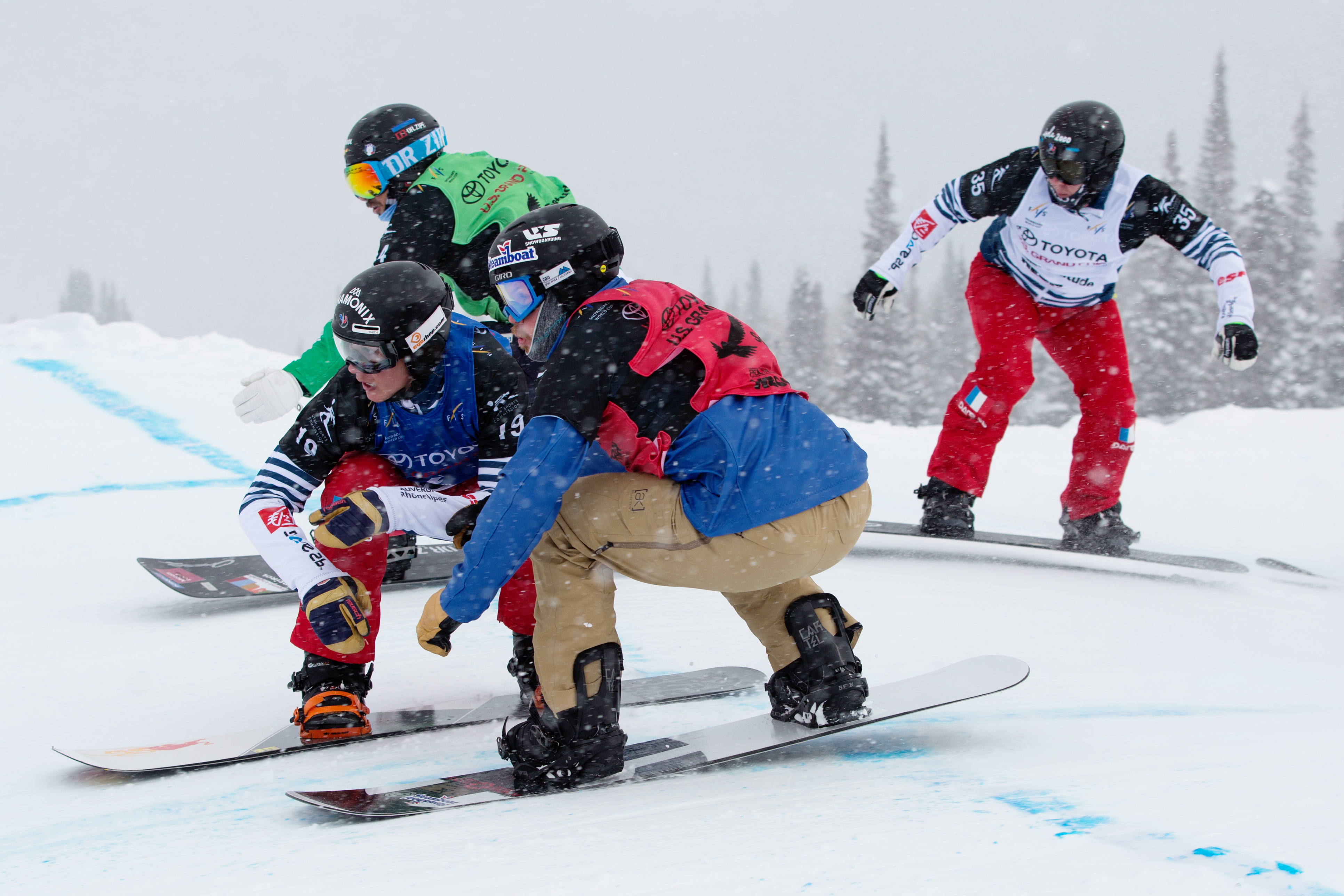 Holeshot Cross Tour
The Holeshot Cross Tour is a competition designed to bridge the gap between grassroots and World Cup level for Snowboard Cross and Ski Cross. The series also brings together athletes across the country to identify the top juniors.
For the 2021 season, the Holeshot Cross Tour will consist of 2 FIS international races and one National Championship competition for both snowboard and ski cross. Athletes 15 (SBX) 16 (SX) and older compete together in an open-class style event. (SB birth year 2005) (SX birth year 2004) 
The tour will be hosted at Copper Mountain Resort from March 31st - April 4th. 
CLICK HERE TO VIEW THE EVENT INVITATION 
Copper Mountain Resort, CO
March 31st - April 4th 
March 31st - Unofficial Training Day 
April 1st - Official Training Day 
April 2nd - FIS International Race #1 
April 3rd - FIS International Race #2 
April 4th - National Championships 
Membership Requirements - Athletes 15 (SBX)/ 16 (SX) must have a current National Competitor U.S. Ski & Snowboard membership and FIS license prior to registering for the event. Foreign athletes are required to hold a current FIS membership and must be inscribed by their National Governing Body. U.S. Ski & Snowboard and FIS memberships are not available to not be purchased onsite; memberships must be purchased in order to register for the event. 
All foreign inscription forms must be sent 2 weeks prior to the event (March 17th). Please send all inscription forms to Elise Saarela at elise.saarela@usskiandsnowboard.org. 
Registration - For the 2021 season, registration will be available only online through the U.S. Ski & Snowboard Membership Page
Cost of Registration – $135 per event - Race Day Lift Tickets are included in entry fee 
Deadline to Register - Wednesday, March 24th, at 11:59 p.m. 
Bibs will be included in the registration fee and athletes will use the same bib for the entirety of the event. At the end of the season, the bib is then yours to keep.
If you lose your bib, there will be a $100 replacement fee.  
Training Day lift tickets will be available for purchase on site. 
*There is no onsite registration. All athletes must register and pay prior to arrival. No exceptions.* 
Training Day - For Unofficial and Official Training day, lift tickets will be $50. There is no additional lane fee. Only athletes registered for the FIS races or National Championships will be allowed on course for training days. 
New in 2020/21 - Coaches are required to register for event for administrative purposes. There is no fee for this coach registration. Coaches who are not registered by the deadline will not be admitted to the Field of Play. No Exceptions. Coaches are also required to hold a U.S. Ski & Snowboard Coach membership. U.S. Ski & Snowboard memberships are not available to be purchased onsite; we recommend that Coach memberships are purchased at least 4 weeks prior to the event in order to accommodate the background screen process. 
Registration Instructions - Domestic Athletes 
Registration Instructions - Foreign Athletes 
Registration Instructions - Coaches 
Covid Protocol - Each credentialed athlete, coach, service technician, official, course worker, and any volunteer who may have close contact with other individuals at the competition must present a negative COVID-19 test within the 72 hour period prior to Bib Pick up on Wednesday, March 31st. 
All participants must provide proof of a negative COVID-19 EUA-approved PCR or ANTIGEN test result (antibody tests are not accepted). Please test after 8am on March 28th, 2021 and have test results uploaded by 4pm on March 30th, 2021, in order to receive your Bib/accreditations. You will not be allowed on Course for official training nor competition without providing your test result.
*If you have any questions, please contact our COVID Coordinator, Heather Derosier - thederosiers@gmail.com *
No participant should travel if they believe they have had close contact* to COVID-19 or exhibited symptoms within 14 days of travel date. Close contact is defined as any individual who was within six (6) feet of an infected person for at least 15 minutes (accumulated over any 24 hour period) starting from two (2) days before illness onset (or, for asymptomatic patients, two (2) days prior to positive specimen collection) until the time the patient is isolated.
Enhanced COVID-19 Protocols for High Level Competition 
U.S. Ski & Snowboard Testing Resources
General COVID Policies - 
-All participants must wear face masks that cover their nose and mouth at all times. When athletes are on course they may drop their mask. 
-All participants must maintain 6 ft distance between household groups (teams).
-No mingling or gathering allowed unless within your team. 
-Please respect and follow the request of anyone who reminds you to cover both your nose and mouth when not on course. 
-There will be limited (if any) access inside. Please be prepared to be outside the whole day.
Refund Policy - Entry Fees will be refunded ONLY to athletes with a valid medical reason under the following provisions: Entry Frees will be refunded if requested 2 weeks prior to the first day of event onsite registration. Participants must have a valid medical reason with documentation.  A $10 service charge will be deducted for all refunds. 
Mandatory Team Captains Meeting Notice - All athletes must be represented at the team captains meeting. Team Captains meetings are typically held the night before each event. Athletes may be removed from the start list if they are not represented at the meeting. Check event schedules for meeting times and locations.  
Parking - You must reserve your parking spot for both training days and competition days. Reserve your parking spot on the Copper Colorado Website. 
If there are any additional questions or concerns, reach out to Elise at elise.saarela@usskiandsnowboard.org.